Federica Ricci
(RTDb) Assistant Professor
SSD: MED/39 - child neuropsychiatry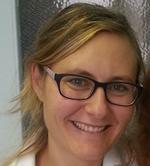 Contacts
0113135813
S.C. Neuropsichiatria Infantile U-
Presidio O.I.R.M.
Piazza. Polonia, 94 TO
At
Department of Sciences of Public Health and Pediatrics
Dipartimento di Scienze della Sanità Pubblica e Pediatriche
Corso di laurea in Fisioterapia
Corso di Laurea in Terapia della Neuro e Psicomotricità dell'Età Evolutiva
Laurea Magistrale in Medicina e Chirurgia - sede di Torino
Curriculum vitae
Curriculum Vitae (0.2 MB)
Selected research products
12-Month progression of motor and functional outcomes in congenital myotonic dystrophy. Muscle Nerve. 2020 Dec 20. doi: 10.1002/mus.27147. Online ahead of print. Quigg KH, Berggren KN, McIntyre M, Bates K, Salmin F, Casiraghi JL, D'Amico A, Astrea G, Ricci F, McKay MJ, Baldwin JN, Burns J, Campbell C, Sansone VA, Johnson NE.
Where have the children with epilepsy gone? An observational study of seizure-related accesses to emergency department at the time of COVID-19. Seizure 2020 Oct 5;83:38-40. doi: 10.1016/j.seizure.2020.09.025. Chiara Davico, Daniele Marcotulli, Caterina Lux, Dario Calderoni, Arianna Terrinoni, Federica Di Santo, Federica Ricci, Roberta Vittorini, Federico Amianto, Antonio Urbino, Mauro Ferrara, Benedetto Vitiello.
The Italian consensus conference on the role of rehabilitation for children and adolescents with leukemia, central nervous system, and bone tumors, part 1: Review of the conference and presentation of consensus statements on rehabilitative evaluation of motor aspects. Pediatr Blood Cancer. 2020;e28681. Rossi F, Ricci F, Botti S, Bertin D, Breggiè S, Casalaz R, Cervo M, Ciullini P, Coppo M, Cornelli A, Esposito M, Ferrarese M, Ghetti M, Longo L, Morri M, Naretto G, Orsini N, Fagioli F, the AIEOP RehabilitationWorking Group Members.
Estimating the impact of COVID-19 pandemic on services provided by Italian Neuromuscular Centers: an Italian Association of Myology survey of the acute phase. Acta Myol . 2020 Jun 1;39(2):57-66. Mauri E, Abati E, Musumeci O, Rodolico C, D'Angelo MG, Mirabella M, Lucchini M, Bello L, Pegoraro E, Maggi L, Manneschi L, Gemelli C, Grandis M, Zuppa A, Massucco S, Benedetti L, Caponnetto C, Schenone A, Prelle A, Previtali SC, Scarlato M, D'Amico A, Bertini E, Pennisi EM, De Giglio L, Pane M, Mercuri E, Mongini T, Ricci F, Berardinelli A, Astrea G, Lenzi S, Battini R, Ricci G, Torri F, Siciliano G, Santorelli FM, Ariatti A, Filosto M, Passamano L, Politano L, Scutifero M, Tonin P, Fossati B, Panicucci C, Bruno C, Ravaglia S, Monforte M, Tasca G, Ricci E, Petrucci A, Santoro L, Ruggiero L, Barp A, Albamonte E, Sansone V, Gagliardi D, Costamagna G, Govoni A, Magri F, Brusa R, Velardo D, Meneri M, Sciacco M, Corti S, Bresolin N, Moroni I, Messina S, Di Muzio A, Nigro V, Liguori R, Antonini G, Toscano A, Minetti C, Comi GP; Italian Association of Myology.
Intrathecal administration of nusinersen in adult and adolescent patients with spinal muscular atrophy and scoliosis: Transforaminal versus conventional approach. Neuromuscul Disord. 2019 Oct;29(10):742-746. Bortolani S, Stura G, Ventilii G, Vercelli L, Rolle E, Ricci F, Bergui M, Mongini T.
A new frontier of pediatric oncology rehabilitation: Establishment of a dedicated working-group within the Italian Association of Pediatric Hematology and Oncology. J Pediatr Rehabil Med. 2019;12(3):271-277. Rossi F, Coppo M, Zucchetti G, Ricci F, Fagioli F.
Long-term natural history data in Duchenne muscular dystrophy ambulant patients with mutations amenable to skip exons 44, 45, 51 and 53. PLoS One. 2019 Jun 25;14(6):e0218683. Brogna C, Coratti G, Pane M, Ricotti V, Messina S, D'Amico A, Bruno C, Vita G, Berardinelli A, Mazzone E, Magri F, Ricci F, Mongini T, Battini R, Bello L, Pegoraro E, Baranello G, Previtali SC, Politano L, Comi GP, Sansone VA, Donati A, Bertini E, Muntoni F, Goemans N, Mercuri E; on behalf on the International DMD group.
New pharmacotherapies for genetic neuromuscular disorders: opportunities and challenges. Expert Rev Clin Pharmacol. 2019 Jun 21. doi: 10.1080/17512433.2019.1634543. [Epub ahead of print]. Ricci F, Vacchetti M, Brusa C, Vercelli L, Davico C, Vitiello B, Mongini T.
Molecular Genetics and Interferon Signature in the Italian Aicardi Goutières Syndrome Cohort: Report of 12 New Cases and Literature Review. J Clin Med. 2019 May 26;8(5). Garau J, Cavallera V, Valente M, Tonduti D, Sproviero D, Zucca S, Battaglia D, Battini R, Bertini E, Cappanera S, Chiapparini L, Crasà C, Crichiutti G, Giustina ED, D'Arrigo S, Giorgis V, Simone M, Galli J, Piana R, Messana T, Moroni I, Nardocci N, Panteghini C, Parazzini C, Pichiecchio A, Pini A, Ricci F, Saletti V, Salvatici E, Santorelli FM, Sartori S, Tinelli F, Uggetti C, Veneselli E, Zorzi G, Garavaglia B, Fazzi E, Orcesi S, Cereda C
Early higher dosage of alglucosidase alpha in classic Pompe disease. J Pediatr Endocrinol Metab. 2018 Nov 15. doi: 10.1515/jpem-2018-0336. [Epub ahead of print] Spada M, Pagliardini V, Ricci F, Biamino E, Mongini T, Porta F.
A method for intraoperative recording of the laryngeal adductor reflex during lower brainstem surgery in children. Clin Neurophysiol. 2018 Sep 24. doi: 10.1016/j.clinph.2018.08.028. [Epub ahead of print] Costa P, Gaglini PP, Tavormina P, Ricci F, Peretta P.
Functional assessment tools in children with Pompe disease: A pilot comparative study to identify suitable outcome measures for the standard of care. Eur J Paediatr Neurol. 2018 Aug 18. doi: 10.1016/j.ejpn.2018.08.001. [Epub ahead of print] Ricci F, Brusa C, Rossi F, Rolle E, Placentino V, Berardinelli A, Pagliardini V, Porta F, Spada M, Mongini T.
Upper limb function in Duchenne muscular dystrophy: 24 month longitudinal data. PLoS One. 2018 Jun 20;13(6). Pane M, Coratti G, Brogna C, Mazzone ES, Mayhew A, Fanelli L, Messina S, D'Amico A, Catteruccia M, Scutifero M, Frosini S, Lanzillotta V, Colia G, Cavallaro F, Rolle E, De Sanctis R, Forcina N, Petillo R, Barp A, Gardani A, Pini A, Monaco G, D'Angelo MG, Zanin R, Vita GL, Bruno C, Mongini T, Ricci F, Pegoraro E, Bello L, Berardinelli A, Battini R, Sansone V, Albamonte E, Baranello G, Bertini E, Politano L, Sormani MP, Mercuri E.
Differential diagnosis of vacuolar muscle biopsies: use of p62, LC3 and LAMP2 immunohistochemistry. Acta Myol. 2017 Dec 1;36(4):191-198. Vittonatto E, Boschi S, Chiadò-Piat L, Ponzalino V, Bortolani S, Brusa C, Rainero I, Ricci F, Vercelli L, Mongini T.
Patterns of care of brain tumor-related epilepsy. A cohort study done in Italian Epilepsy Center.
PLoS One 12(7), 17 luglio 2017. Maschio M, Beghi E, Casazza MML, Colicchio G, Costa C, Banfi P, Quadri S, Aloisi P, Giallonardo AT, Buttinelli C, Pauletto G, Striano S, Salmaggi A, Terenzi R, Daniele O, Crichiutti G, Paladin F, Rossi R, Prato G, Vigevano F, De Simone R, Ricci F, Saladini M, Monti F, Casellato S, Zanoni T, Giannarelli D, Avanzini G, Aguglia U; BTRE Study Group
Diagnosis of Duchenne Muscular Dystrophy in Italy in the last decade: Critical issues and area of improvements.
Neuromuscular Disorders 27, 447-451, 2017. D'Amico A, Catteruccia M, Baranello G, Politano L, Govoni A, Previtali SC, Pane M, D'Angelo MG, Bruno C, Messina S, Ricci F, Pegoraro E, Pini A, Berardinelli A, Gorni K, Battini R, Vita G, Trucco F, Scutifero M, Petillo R, D'Ambrosio P, Ardissone A, Pasanisi B, Vita G, Mongini T, Moggio M, Comi GP, Mercuri E, Bertini E
Registries versus tertiary care centers: How do we measure standards of care in Duchenne muscular dystrophy?
Neuromuscular Disorders 26, 261-263, 2016. Mercuri E, Baranello G, Battini, Berardinelli A, Bertini E, Bruno C, Comi GP, D'Amico A, D'Angelo G, Gorni K, Messina S, Mongini T, Pane M, Pegoraro E, Pini A, Politano L, Previtali S, Ricci F, Sansone V, Vita GL
Impaired Presynaptic High-Affinity Choline Transporter Causes a Congenital Myasthenic Syndrome with Episodic Apnea.
The American Journal of Human Genetics 99, 1-9, September 1, 2016. Bauché S, O'Regan S, Azuma Y, Laffargue F, McMacken G, Sternberg D, Brochier G, Buon C, Bouzidi N, Topf A, Lacène E, Remerand G, Beaufrere AM, Pebrel-Richard C, Thevenon J, El Chehadeh-Djebbar S, Faivre L, Duffourd Y, Ricci F, Mongini T, Fiorillo C, Astrea G, Burloiu CM, Butoianu N, Sandu C, Servais L, Bonne G, Nelson I, Desguerre I, Nougues MC, Bœuf B, Romero N, Laporte J, Boland A, Lechner D, Deleuze JF, Fontaine B, Strochlic L, Lochmuller H, Eymard B, Mayer M, Nicole S.
Rehabilitative intervention during and after pediatric hematopoietic stem cell transplantation: an analysis of the existing literature.
Pediatric Blood and Cancer, 2016. F.Rossi, M.Coppo, G.Zucchetti, D.Bazzano, F.Ricci, E.Vassallo, F.Nesi, F.Fagioli
Taking care of patients with brain tumor-related epilepsy: results from an Italian survey. Neurological Sciences, January 2015, Volume 36, Issue 1, pp 125-130. Maschio M, Paladin F, on behalf of the LICE Brain tumor-related epilepsy study group.
Characterization of human disease phenotypes associated with mutations in TREX1, RNASEH2A, RNASEH2B, RNASEH2C, SAMHD1, ADAR, and IFIH1.
American Journal of Medical Genetics, 2015 Feb;167A(2):296-312. Crow YJ, Chase DS, Lowenstein Schmidt J, Szynkiewicz M, Forte GM, Gornall HL, Oojageer A, Anderson B, Pizzino A, Helman G, Abdel-Hamid MS, Abdel-Salam GM, Ackroyd S, Aeby A, Agosta G, Albin C, Allon-Shalev S, Arellano M, Ariaudo G, Aswani V, Babul-Hirji R, Baildam EM, Bahi-Buisson N, Bailey KM, Barnerias C, Barth M, Battini R, Beresford MW, Bernard G, Bianchi M, Billette de Villemeur T, Blair EM, Bloom M, Burlina AB, Carpanelli ML, Carvalho DR, Castro-Gago M, Cavallini A, Cereda C, Chandler KE, Chitayat DA, Collins AE, Sierra Corcoles C, Cordeiro NJ, Crichiutti G, Dabydeen L, Dale RC, D'Arrigo S, De Goede CG, De Laet C, De Waele LM, Denzler I, Desguerre I, Devriendt K, Di Rocco M, Fahey MC, Fazzi E, Ferrie CD, Figueiredo A, Gener B, Goizet C, Gowrinathan NR, Gowrishankar K, Hanrahan D, Isidor B, Kara B, Khan N, King MD, Kirk EP, Kumar R, Lagae L, Landrieu P, Lauffer H, Laugel V, La Piana R, Lim MJ, Lin JP, Linnankivi T, Mackay MT, Marom DR, Marques Lourenço C, McKee SA, Moroni I, Morton JE, Moutard ML, Murray K, Nabbout R, Nampoothiri S, Nunez-Enamorado N, Oades PJ, Olivieri I, Ostergaard JR, Pérez-Dueñas B, Prendiville JS, Ramesh V, Rasmussen M, Régal L, Ricci F, Rio M, Rodriguez D, Roubertie A, Salvatici E, Segers KA, Sinha GP, Soler D, Spiegel R, Stödberg TI, Straussberg R, Swoboda KJ, Suri M, Tacke U, Tan TY, te Water Naude J, Wee Teik K, Thomas MM, Till M, Tonduti D, Valente EM, Van Coster RN, van der Knaap MS, Vassallo G, Vijzelaar R, Vogt J, Wallace GB, Wassmer E, Webb HJ, Whitehouse WP, Whitney RN, Zaki MS, Zuberi SM, Livingston JH, Rozenberg F, Lebon P, Vanderver A, Orcesi S, Rice GI
Cerebral Palsy in the Developing World. M.T.Perenchio and F.Ricci in "Orthopedic Management of Children with Cerebral Palsy. A comprehensive approach", Federico Canavese and Jacques Deslandes, Nova Science Publishers, 2015
Activities in agenda
Academic bodies
Office hours
Previo appuntamento tramite mail.